The following were Porsche's commercials when the 993 was introduced. You may need to right-click on the links to play them.
| | | | |
| --- | --- | --- | --- |
| | | | |
| Porsche 993 Movie 1 | Porsche 993 Move 2 | Porsche 993 Movie 3 | Porsche 993 Movie 4 |

The Ultimate Owner's Guide
Porsche 911 (993) Carrera, Turbo & RS
by Jack Criswell
Buy it Here
Published by PMM Books, an imprint of Peter Morgan Media Ltd., PO Box 2561, Marlborough, Wiltshire, SN8 1YD, Great Britain.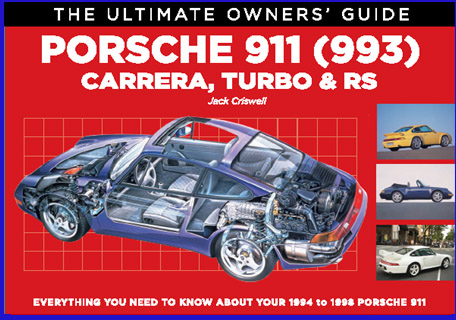 A handy guide with little elaboration, just the most pertinent points of ownership, designed
to be used with your owner's manual, containing:

A short history of 993 production
Performance – Porsche 's numbers and reality
Know your car
The A to Z of routine care
Washing and caring for its looks
Basic work on the car
Known issues and bigger tasks
Other enhancements and modifications
Contacts and more information
Index

This is an independent publication.
There is no association with Porsche SE, Porsche USA, or any of its subsidiaries.
The name of Porsche is used only for identification purposes.

References, Professionals, Parts, Credits: